After Schools Curriculum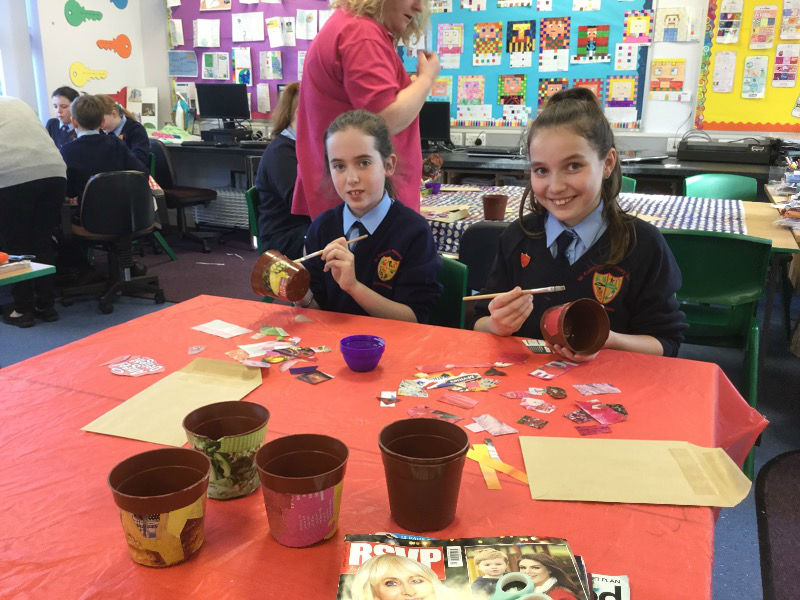 Olivia & Ellie May decoupaging pots
Lauren and Rihanna
Ella Rose, Eimear & Aoife making seed bombs
Ellie Kate enjoying craft club
Ned and Connie getting help from Mrs. Greenan
Clare & Aoibhin hard at work
Caoimhe & Megan being creative
Raising the self-esteem of children is a central mission of the extended schools programme in St. Colman's, as is keeping our children safe and healthy. Not only are these after-school clubs fun, but they also help boost children's self-esteem and self-confidence. We want happy, self-confident children because they are motivated and can achieve more. Our clubs also offer children opportunities to learn new skills. We offer a wide range of activities for after school ranging from developing languages to performing in sport and drama for children of all abilities.
Information for the activities and pictures from each term will be displayed on this webpage. Notes and letters for after schools can also be uploaded here for parents to access them if they get misplaced.
CRAFT CLUB
Wednesday afternoons 15 pupils are learning to reuse materials like magazines, paper and fabric to decoupage, make seed bombs and dishes. We'll be planting some of our seed bombs at the school to help the bees pollinate plants! Many thanks to Mrs. Caroline Quinn and Mrs. Rosemary Greenan for their support.